What you need to know about temporary tattoos that last a long time:
Make sure you go to a real semi-permanent tattoo specialist.
The ink must be approved to CE (European Union) standards.
Prefer tattoos that last 1 month and are done on the surface of the skin like henna.
Good quality ephemeral tattoos (see links in the article) last up to 10 days on the skin which is enough to test a permanent tattoo pattern.
You're not sure you want to get a real tattoo? Have you heard of semi-permanent tattoos (6 months)? Temporary tattoos such as : stencils, stamps and decals don't suit you because they don't last long enough on the skin?
Indeed, in addition to fading after a few days, the holding of the ephemeral tattoo will vary according to the type of skin (dry or oily). But also of the context (beach, evening, swimming pool) and the location (more or less rubbing).
So let's take an interest in these famous non-permanent tattoos that last up to 6 months. They seem to be the best compromise, but we will see that there is not yet a perfect technique without danger to health.
How do I get a semi-permanent tattoo that lasts 6 months?
There aren't many techniques that allow for this feat. The one that is very often indicated is: Chinese ink. It is necessary to find a tattooist who practices this art because he must be able to manage the composition of the ink and the way to inject it into the skin.
By pricking the skin as close as possible to the surface, the ink of the semi-permanent tattoo will disappear by itself at the approach of 6 months. To help this, chinese ink must be diluted to be more liquid. Many tattoo professionals have their own "recipe" and keep the ingredients secret.
Temporary tattoo 6 months, tips and warnings
I strongly advise you not to address yourself to just any "professional". More and more beauty salons offer semi-permanent tattoos without being framed. The most important thing is to make sure that the ink is approved, i.e. to CE (European Union) standards. If it is not the case, the product is certainly not reliable because it is not sufficiently tested. Attention must also be paid to the safety and hygiene of the room.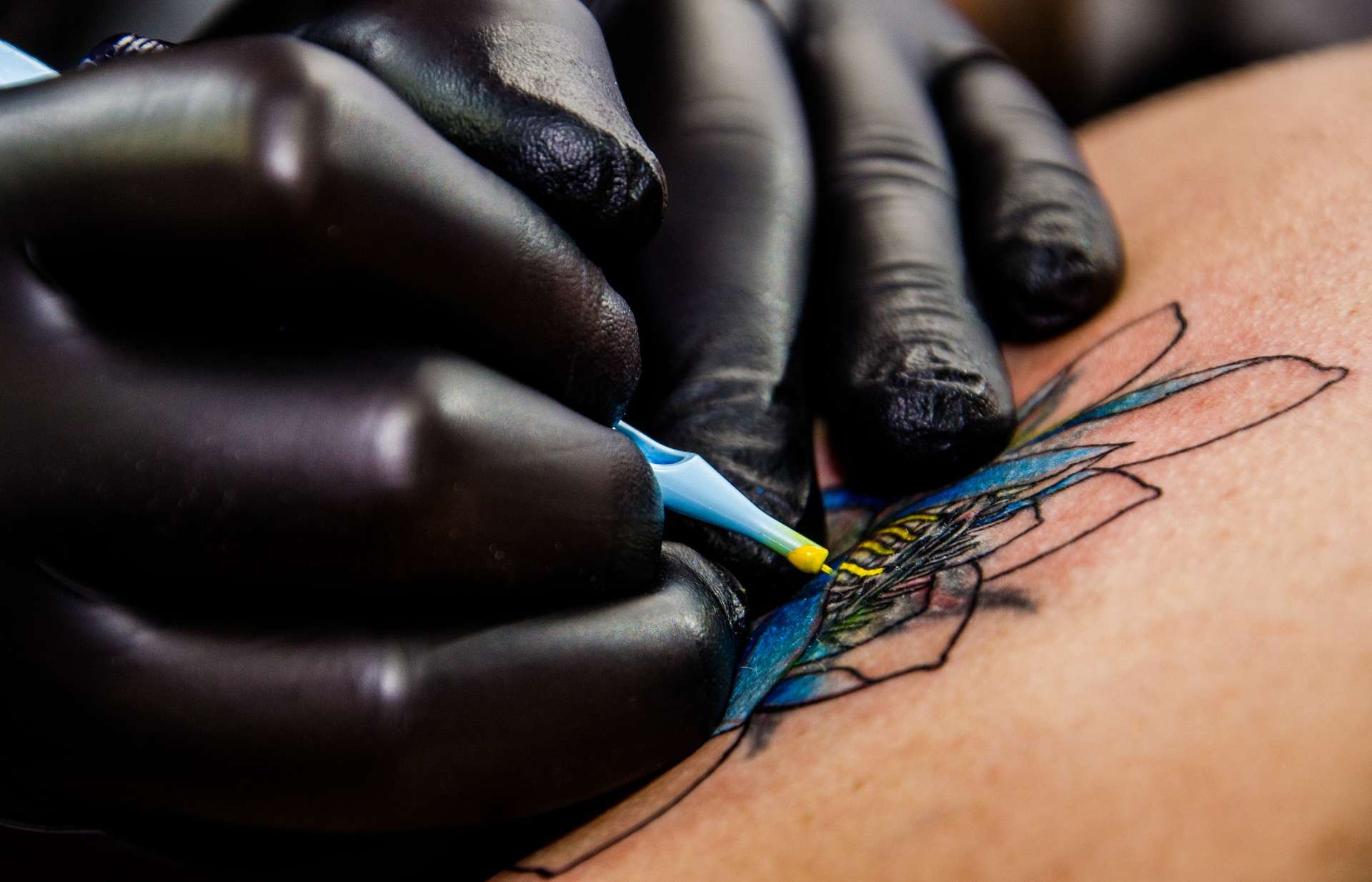 Be careful because there are cases where the semi-permanent tattoo was supposed to fade after 6 months but in reality the pattern has remained under the skin for years. The latter aging very badly and becoming unfortunately unattractive.
It should be kept in mind that health professionals and the majority of tattoo artists question the existence of this technique (Chinese ink injected shallowly into the skin). For them, to carry out a tattoo in a temporary way is impossible and the composition of the ink does not change anything there.
Prefer semi-permanent tattoos that last 1 month
They are risk-free because the ink is deposited on the epidermis and therefore on the surface of the skin.
Semi-permanent henna tattoo
Be careful though, remember that the black henna tattoo is not recommended due to its allergenic aspect and that you will have to orient yourself towards the orange-brown version of henna.
It will be necessary to foresee between 15$ and 30$ for an average and easy henna design.
Or cheaper if homemade with the following accessories:
Count up to $100 if you want a larger, more complex model of long lasting temporary tattoo.
The temporary Inkbox tattoo that lasts 2 to 3 weeks.
If you're not a fan of orange henna, I advise you to test the Inkbox brand: their temporary tattoos look like real (very black) ones. But only lasts 15 to 20 days, that is to say 3 times longer than decals tattoos!
How did they manage this trick/pass? Their ink is made of fruit, so it's all natural. It reacts with the skin to give it the intense black colour (after 24 hours). Contrary to an ephemeral self-adhesive tattoo that is simply placed on the surface of the skin. The brand promises zero risk in terms of allergic reaction.
It is also the ideal solution for the beach because this semi temporary tattoo technique is not afraid of water, soap or sand.
For 20 to 30$, you have a kit including :
your motive,
a glove,
a pre-moistened towel
a bottle of ethyl alcohol.
If you are more of an artist and you prefer personalization, Inkbox also offers ink bottles for unlimited creativity!
However, don't forget that tattoo decals that last from 3 to 6 days are very easy to use, can be personalized and are available at very affordable prices.
How do I remove a semi-permanent tattoo?
This will depend on the technique, pigmentation and colour of the long lasting temporary tattoo. If the tattoo is done for 3 to 5 years, laser sessions in a specialized establishment should be considered. A professional will make a diagnosis of the temporary tattoo. It is not a magic solution, however, it will take several sessions, with a temporary tattoo that will gradually change color before fading completely.
If it is a semi-permanent eyebrow make-up that you find too marked, you can try to blur with salt water. Rub your eyebrows with a salt-water cotton swab to make the makeup look more natural.
Good news, if it is a tattoo that lasts less than 7 days, you can gently remove it by following our advice:
step 1: start by massaging the tattoo area with oil (olive oil, coconut oil, argan oil… it doesn't matter).
step 2: rub gently with soapy water
step 3 : rub out of the water with an oil-soaked washcloth (to avoid damaging the skin), the temporary tattoo should come off very easily and leave the skin feeling soft.
Also to be read : Temporary tattoos 3 to 6 days, price and complete instructions for use.
Frequently asked questions about semi-permanent tattoos
⌛ How long does a semi-permanent tattoo last?
A non-permanent tattoo will have a very different lifespan depending on the technique used. Count 3 to 5 days for tattoos on the skin (decals, felt-tip pens, stamps, stencils…) and from 6 months to 1 year and a half for the dermopigmentation.
💰 How much does a semi-permanent tattoo cost?
There is something for every budget: if you want to try semi-permanent tattoos for a few days it won't cost you more than 20€. On the other hand, temporary tattoo techniques with dermopigmentation (same technique as temporary make-up) will require a quote from a professional as for a traditional tattoo. If you don't have a large budget, our articleget his ephemeral tattoo cheaply is for you.
💉 Is the semi-permanent tattoo dangerous for your health?
Chinese ink or any other uncertified or incorrectly dosed ink injected under the skin is a very controversial technique. So is black henna which is unnatural (traditional henna is dark brown/auburn) and can be very allergenic. The semi-permanent tattoo techniques that are the least risky are: natural henna, decals and inks to be applied to the skin (make sure these are CE approved).
🗺️ Where to get a semi-permanent tattoo?
The advantage of temporary tattoos is that most techniques can be done at home. It is the case of the tattoos decals, felt-tip pens or ink pads. Concerning henna, there are specialized salons in order to have a professional rendering and a quality henna (the tattoo will last longer). For semi-permanent tattoos of 6 months and more it will be necessary to consult a professional because it is an injection of pigments under the skin using a needle.